28 DE JUNIO, PROGRAMA BR. SHUBAMRITA MALLORCA LA ALEGRÍA DE VIVIR
Description
JUEVES 28 DE JUNIO, PROGRAMA DE BR. SHUBAMRITA LA ALEGRÍA DE VIVIR
CHARLA ESPIRITUAL | CONCIERTO | MEDITACIÓN

Brahmachari Shubamrita Chaitanya

Ha vivido con Mata Amritanandamayi (Amma) como discípulo monástico desde 1989 y regularmente da conferencias y seminarios sobre gestión del estrés y meditación en Europa, África, India y el Medio Oriente. Cuenta con más de 20 años de experiencia como uno de los discípulos más cercanos de Amma y traductor personal, Br. Shubamrita comparte su conocimiento de la tradición espiritual oriental en términos prácticos y de fácil comprensión.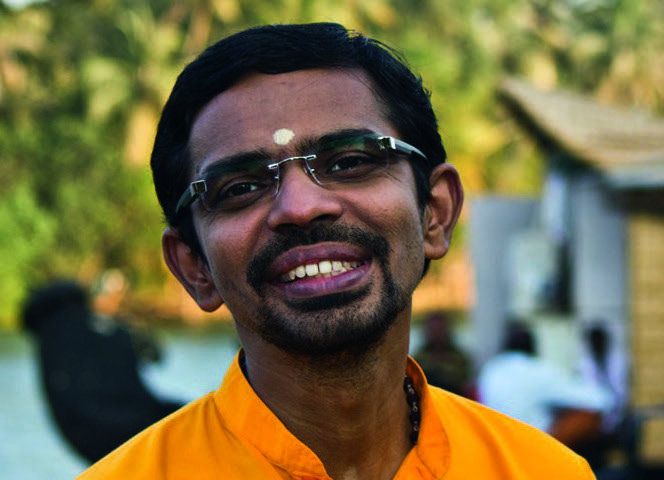 An Introduction to Br. Shubamrita - Spanish from M.A. Center
Mata Amritanandamayi
Conocida en todo el mundo como Amma, o Madre, es uno de los líderes humanitarios y esprirituales más respetados del mundo. Toda su vida la ha dedicado a aliviar el dolor de los pobres y a aquellos que sufren física y emocionalmente. Amma inspira, eleva y transforma a través de su abrazo físico, su sabiduría espiritual y su labor humanitaria. Su infinito amor y compasión cruza todas las barreras de nacionalidad, cultura y la religión. Por sus extraordinarias contribuciones a la paz mundial.
Amma recibió el Premio Gandhi King por la No Violencia en 2002. Sus proyectos caritativos, conocidos ahora mundialmente como Embracing The World®, están llegando a millones de personas en todo el mundo. En la India, a la organización de Amma se le ha dado Carácter Consultivo Especial ante las Naciones Unidas.


- CUÁNDO?

Jueves 28 de Junio de 2018
Entrada 18:00h, Inicio 19h
- DÓNDE?
Gran Hotel Meliá Victoria
Centro de Convenciones (edif. anexo a la recepción del hotel)
Av. Joan Miró, 21
07014 Palma de Mallorca
Illes Balears
- MÁS INFORMACIÓN E INSCRIPCIÓN
Miguel Ferrer Sancho: Tlf: 610 23 82 81
Correo electrónico:
This email address is being protected from spambots. You need JavaScript enabled to view it.
- OBSERVACIONES

La entrada es gratuita, pero
es necesaria la inscripción previa.
Se agradecen los donativos para la obra Humanitaria de Amma en el mundo,
Embracing the World
.
http://es.embracingtheworld.org
Subcategories
---